Decatur County Community Schools
Decatur County Community Schools is offering options with regards to a safe return of students for the 2021–2022 school year. For this school year, we invite you to learn more about our return-to-school plan and our virtual academy using the links below.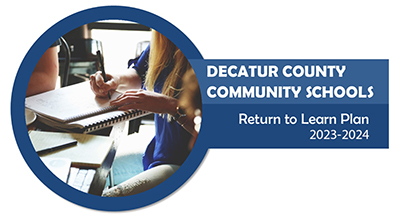 Learning Today, Leading Tomorrow
Decatur County Community Schools in southeast Indiana is a community of learners and educators. Our student-centric schools challenge students with a highly relevant curriculum and provide support for their endeavors and dreams within a safe and caring learning environment. We love what we do and are proud of our role in preparing young people for their future. Get to know some of our students, and it becomes obvious what makes us so great, but if that's not possible, browse our website to learn what we're all about.
A Message from Our Superintendent
I would like to welcome you to Decatur County Community Schools. Here at Decatur County Community Schools, we work in partnership with both our families and community to maintain and provide a safe, disciplined, and productive environment where all students are engaged in learning. With an ever-changing economy, our number one objective is to make sure all students have the appropriate knowledge and skills when they start their post high school endeavors. Decatur County Community Schools offer a wide variety of curricular programs and extracurricular opportunities such as:
Our high schools offer 22 dual credit classes/80 college credits
Project Lead The Way-Principles of Engineering/Digital Engineering/Civil Engineering/Bio-Medical Sciences/Design and Modeling/Robotics
Project Lead The Way-Gateway for junior high students
Health careers/full certified nursing assistant program
National Honor Society
Academic honors
FFA program with eight different agra business classes
Established agriculture program at both high schools
Honors art and music programs
Archery
Decatur County Community Schools as a district is incredibly proud of the following:
1-1 technology school district
1 of 2 school districts in Indiana certified as "Safe and Collaborative" by Marzano Research
Every teacher in DCCS is Highly Qualified by the state of IN
Both elementary schools are above state average in math and English/language arts on ISTEP
Both Jr/Sr high schools are above state average in graduation rate and college and career readiness
I encourage everyone to go through our website, visit our social media feeds, and visit any of our four award winning schools. What separates Decatur County Community Schools is the amazing staff of caring, hardworking, and student-centered educators that are second to none! At Decatur County Community Schools, our educational philosophy is, "All students can learn, and it is our responsibility to make sure each and every student reaches their potential so they will be successful in life after high school."
Dr. Jarrod Burns
Dr. Jarrod Burns
Superintendent